Adventures With Patty
by Jared Radin
Introduction
I met Patty in a chat room on the Internet. After chatting with her for four months we decided it was time to meet in person. Shortly after meeting, we decided that we should live together. Here is the story of our adventures away from our home in Atlanta.
Meeting Patty (May 31, 2001):
It's time to meet her in person. I flew to Las Vegas and she picked me up at the airport. The first day went well. Her brother-in-law came to meet me. I met her daughter, her daughter's family, and her son, and a few of her friends. A few days latter we drove to Albuquerque to spend a few days with her "adopted sister", a woman of the same age and temperment. I flew back to Atlanta.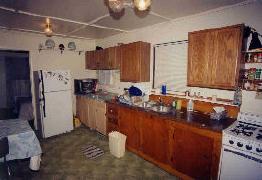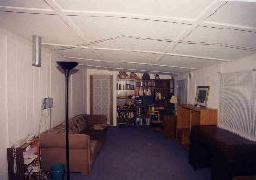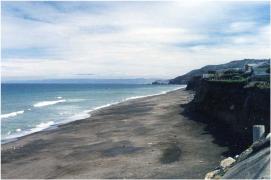 San Francisco to Dolan Springs (July, 2001):
A few weeks after the first visit I flew to San Francisco to meet Patty. There we had a whirlwind tour of meeting each others friends and Family. Patty met Jared's side of the family - Aunt Louise, Cousin Norman, his son Cousin Lon, Cousin Negina. Jared met Patty's Family - her friend Frieda where we stayed on the coast of the Pacific, her neice Jill and friend Diffy. On the way to Dolan Springs we stopped at Patty's Mother in Law Elsie.
Drive to Atlanta: (July 2001)
Patty made the decision to join me in Atlanta. We were obviously very compatible, so it was not a difficult decision for her. Her car had recently been pronounced on the verge of death so we rented a car for both of us to drive off to Atlanta from Dolan Springs. We packed as much of Patty's stuff as would fit in the car - including a 21" monitor. On the way we stopped to Visit Carol, Vander, and Jared's Cousin Zmira in St. Louis.
Visiting Rachel #1:(August 2001)
After settling in Atlanta for a few weeks we visited Jared's sister Rachel in Massachusetts.
Drive to Los Angeles: (Dec 2001)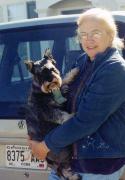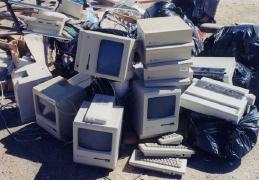 After being in Atlanta for 5 months, Patty decided to move all of her belongings to Jared's house. In early December Patty drove from Atlanta to Dolan Springs in her van, which she purchased shortly after arriving in Atlanta. A few weeks latter Jared flew out to meet her. In Dolan Springs we prepared to move her belongings to Atlanta. We discarded her 20 old Macintosh computers. We then drove to the Los Angeles area to spend a few days at a resort with Elita and Jim (her sister and husband). On the way back to Dolan Springs we stayed at her mother-in-laws house and celebrated Christmas morning with her and her sons.
Moving to Atlanta: (Dec 2001)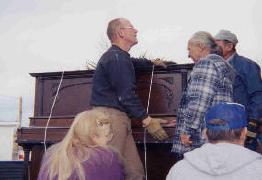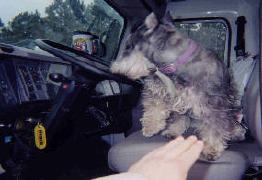 We rented a large truck to take all of Patty's stuff back to Atlanta. Neither of us had driven a large truck and it took a few days to get the hang of it. The worst part was when Patty missed a turn into a hotel, and we were on a dead end street, and there was no way we could go backwards with a car in tow. (Maybe a trucker with 10 years experience could have done it). Fortunately there was a wide turnaround at the end of the road, else we might still be there. By the end of the trip we felt at home in the truck stops. Even now when we travel we like to stop at truck stops for sentimental reasons :)

The truck was long, very long..............................
Autreat, Visiting Rachel, and New York City (June 2002):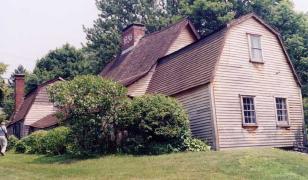 Patty drove to Autreat by herself (I was teaching chess at a chess camp). She then drove to Rachel in Massachusetts, where I flew and met her. We stayed a few days in the Boston area. In Boston we stopped at the Fairbanks house. The house was of special interest to Patty as her mother was from the Fairbanks family.
We then drove to New York City and stayed at my Aunt Ruth's house for a few days. We took the subway into the city one day, and saw the Museum of Natural History and walked around Times Square. On the drive back in New Jersey we saw one of Patty's Internet friends, and Richard, a distant family member of Jared.
ASA conference - Indianapolis (July 2002):
The local ASA group sent us to Indianapolis for the ASA's Annual conference. We attended many of the seminars, and met many people.
Autreat (July 2003):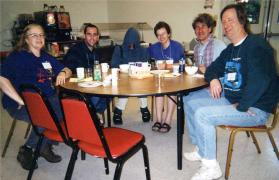 We flew in to Autreat on several small planes. Patty had some difficulty when one plane went up above 10,000 feet. At Autreat Patty volunteered to manage the dining room - a job that kept her busy.
Arizona and San Francisco (August, 2003):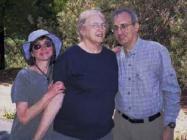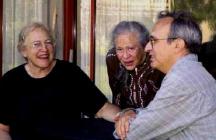 We visited San Francisco staying at Adam's house, We saw Jared's family, Patty's niece Jill, and several of Patty's friends. We drove to Patty's sister's house, and then to Patty's Mother-in-Law, and then to Patty's house. I worked on the house several mornings fixing the loose shingles, trying to avoid heat stroke. We also prettied up the house so it would sell faster. Then we met Carol for a few nights in Las Vegas.
MAAP conference - Indianapolis (October 2003):
Patty had a difficult time preparing for the three panels she was going to be on. A week before the conference it was determined that she needed a heart stent, and thus she could not attend. She felt great after the procedure, but traveling was not reommended. Since she was feeling so good, Jared went to Indianapolis and substituted for her, presenting her speeches.
New Orleans Vacation (Dec 2003):
During the week before Christmas, we drove to Louisiana. We spent two days camping in a nice state park, visited one of Patty's Internet friends, and spent three days in New Orleans. On the way back we stayed overnight in Birmingham and saw the Sloss Furnaces, art musuem, and an aircraft museum.
60th Birthday - Dolan Springs (April 2004):
This was an important event to her - she beat the grim reaper for 60 years. Jared spent too much time trying fixing loose the shingles on her roof. We stayed at her house a few nights, and then a few nights in Laughlin with Carol, Jim and Elita. On her birthday we went to her house for a celebration.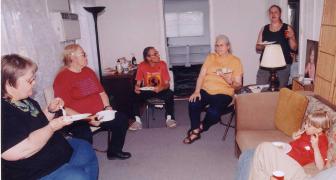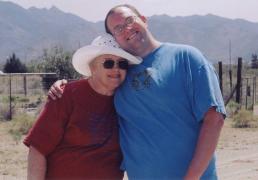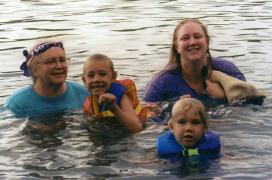 ASA conference - Pittsburgh (July 2004):
Patty went by herself. She flew there, and was planning to fly back, but some friends from Atlanta needed help driving back, so she helped them drive back.
MAAP Conference - Chicago (Oct 2004):
Patty went with Angela and Scott. She had an excellent time, and enjoyed singing with Stephen Shore and Temple Grandin.
Atlanta Autism Conference - (February 2005):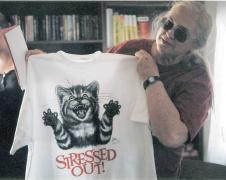 She gave a very nice talk on stress. These talks were getting much easier for her than a few years before.
Birmingham Vacation (April 2005):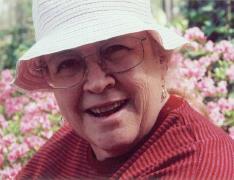 We spent three nights at the very nice campground at Oak Mountain State Park, located just south of Birmingham, AL. We mostly read and relaxed relaxed in the campground, and took breaks visiting the botanical gardens, zoo, and Art Musuem.
We then spent two nights at a hotel in Scottsboro, Al. The main tourist attraction is the unclaimed baggage store. Of course we had to buy a few things. If an airline ever lost your luggage don't you feel better knowing that maybe we have it now :)
Visit by her Daughter (July 2005):
Patty's daughter and her family visited us. We had a great time, and survived seven people sleeping in the house. Patty cooked a nice meal for everyone and my parents. In retrospect, the visit was very meaningful, as she had the stroke a week after they left.
---